Anglický čtenář v Doubravníku [12]
21.11.2005
Na depresi z dlouhých večerů a špatného počasí má Anglický čtenář zaručený recept:
- kvalitní detektivku...


My dear reader,

We are going to start reading one of the famous detective stories written by Arthur Conan Doyle. I have made an extract from the text and adapted it for you. It is the reason that I have not created a relative vocabulary. Later on you will have the opportunity to read the integral text too. Before you start to study this detective story, it will be useful to give a look at:

http://en.wikipedia.org/wiki/Arthur_Conan_Doyle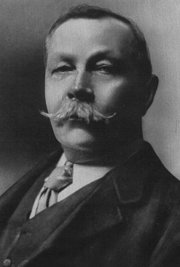 The Adventure of the Empty House 1

It was in the spring of the year 1894 that all London was excited by the murder of Ronald Adair under most unusual and inexplicable circumstances.

The public has already learned those particulars of the crime which came out in the police investigation, but a good deal was suppressed upon that occasion, since the case for the prosecution was so overwhelmingly strong that it was not necessary to bring forward all the facts. Only now, at the end of nearly ten years, am I allowed to supply those missing links which make up the whole of that remarkable chain.

Ronald Adair was the second son of the Earl of Maynooth, at that time governor of one of the Australian colonies. Adair's mother had returned from Australia to undergo the operation for cataract, and she, her son Ronald, and her daughter Hilda were living together at 427 Park Lane. The youth moved in the best society -- had, so far as was known, no enemies and no particular vices. He had been engaged to Miss Edith Woodley but the engagement had been broken off by mutual consent some months before, and there was no sign that it had left any very profound feeling behind it. For the rest of the man's life moved in a narrow and conventional circle, for his habits were quiet and his nature unemotional. Yet it was who was unexpectedly murdered between ten and eleven-twenty on the night of March 30, 1894.

Ronald Adair was fond of cards -- playing continually, but never for such stakes as would hurt him. He was a member of several card clubs. On the day of his death, he had played a rubber of whist at one of this club. He had also played there in the afternoon. The men who had played with him said that he had lost five pounds, but not more. He was a very rich man and such a loss could not be important to him. He had played nearly every day at one club or other, but he was a cautious player, and usually he won. So much for his recent history as it came out at the inquest.

On the evening of the crime, he returned from the club exactly at ten. His mother and sister were out spending the evening with a friend. The servant heard him enter the front room on the second floor, generally used as his sitting-room. She had lit a fire there, and as it smoked she had opened the window. No sound was heard from the room until eleven-twenty, the hour of the return of Lady Maynooth and her daughter. Desiring to say good-night, she attempted to enter her son's room. The door was locked on the inside, and no answer could be got to their cries and knocking. Help was obtained, and the door forced. The unfortunate young man was found lying near the table. His head had been horribly mutilated by an expanding revolver bullet, but no weapon of any sort was to be found in the room. On the table lay two banknotes for ten pounds each and seventeen pounds ten in silver and gold, the money arranged in little piles of varying amount. There were some figures also upon a sheet of paper, with the names of some club friends opposite to them, from which it was supposed that he was trying to make out his losses or winnings at cards.

An examination of the circumstances made the case more complex. Why did the young man lock the door inside? It was possible that the murderer had done this, and had escaped by the window. But there no footmarks on the grass. No one could have climbed up to the window without leaving traces.

I was thinking about these facts and I asked myself what my poor friend would have done under these circumstances. I could not find the right answer. In the evening I went to see the house at Park Lane where this gentleman had been murdered. There were some people in the street staring up at a particular window. A tall, thin man with coloured glasses, who looked like a detective was pointing out some theory of his own, while the others crowded round to listen to what he said. I got as near him as I could, but his observations seemed to me to be absurd. So I turned back. As I did so I struck against an elderly, deformed man, who had been behind me, and I knocked down several books which he was carrying. I picked them up and said I was very sorry. But it was evident that these books which I had so unfortunately maltreated were very precious objects in the eyes of their owner. He took his books and disappeared among the crowd.

My observations of No. 427 Park Lane did help me to clear up the problem in which I was interested. More puzzled than ever, I went home. I had not been in my study five minutes when the maid entered to say that a person desired to see me. To my astonishment it was none other than my strange old book collector.

"You're surprised to see me, sir," said he, in a rather strange voice.
I agreed that I was. "Well, I've a conscience, sir, and when I chanced to see you go into this house, I thought to myself, I'll just step in and see that kind gentleman and thank him for picking up my books." "You make too much of a trifle," said I. "May I ask how you knew who I was?"

"Well, sir, I live in the same street; you'll find my little bookshop at the corner of Church Street, and I will be very happy to see you, I am sure. Maybe you collect books yourself, sir.

I moved my head to look at the cabinet behind me. When I turned again, Sherlock Holmes was standing smiling at me. I stared at him with the greatest surprise. I fainted and I opened my eyes again I saw Holmes holding a bottle of brandy in his hand.



. . .

pokračování příště



rubriku vede: PhDr.Tomášek Pavel CSc.